Still quite active with several tornado warnings across N Alabama and entering NW Georgia at 8:44 CDT.
Twitter feed video.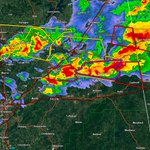 I missed the live feed from @cpeek7 on the baseball sized hail in Cullman, AL but I saw some pictures of his windshield after that storm. Ouch!
My mom hit a pothole on Kanis Rd west of Ferndale Cutoff and wiped out two tires! It must have been pretty deep. So I spent the evening changing tires. I tried to explain to my mom that you have to avoid the deep ones...lol
Load More...